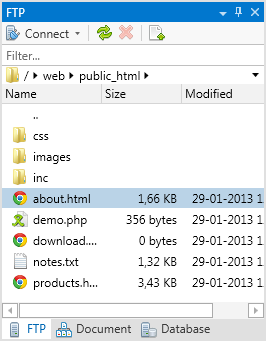 Built-in FTP/SFTP/FTPS client
With the built-in FTP client, you may upload your work while you're editing it, without leaving the editor. You can even edit remote files directly - just press Save and the changes are saved back to the server. There's support for most FTP commands, over regular FTP, FTP over SSH and FTP over SSL.
See all features of TSW WebCoder 2013
Try TSW WebCoder 2013 for free!